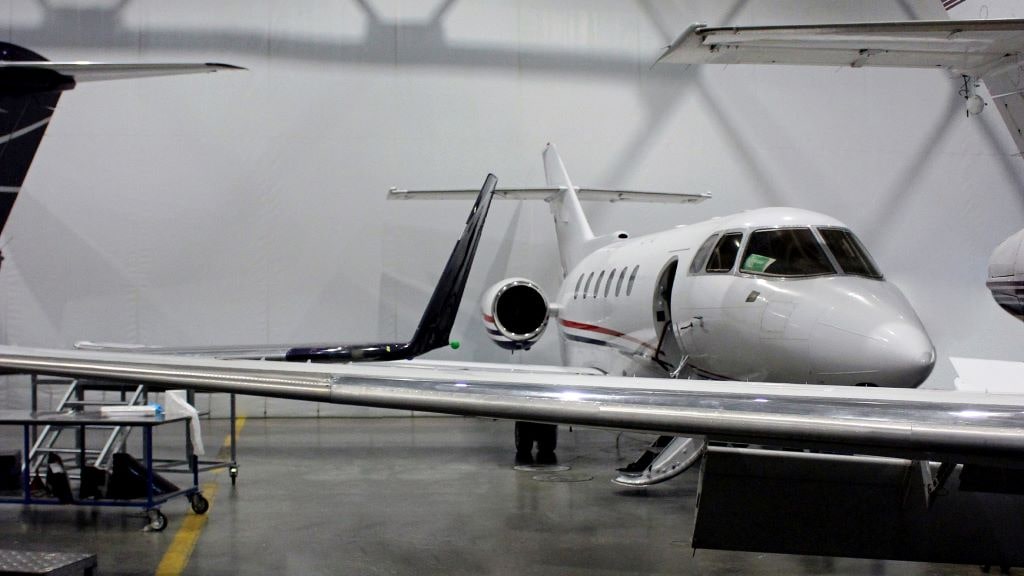 Jet Maintenance Solutions (JET MS) is a global provider of integrated aircraft maintenance, repair and overhaul solutions for business and regional aviation. Besides, it is a great place for a career that fits you.
Raivis Lipciks from Ryga, Latvia joined JET MS in mid-February 2019 as a line maintenance manager to help the company in establishing the new Boeing 737. After almost a year, Raivis became a head of planning unit in JET MS' technical department.
Before JET MS, Raivis was working in Primera Air in Latvia, however his career there ended as the company declared bankruptcy. After a two-month holiday, Raivis decided that his next workplace won't be another airline company – he desired more persistency and stability rather than stressful 24/7 work. JET MS immediately caught Raivis' attention as he believed that joining base maintenance in such a strong company would be a valuable opportunity. Although he applied for a different position, he was offered the one that would suit his skills and experience much better. It didn't take long for Raivis to accept the job offer and even move to Lithuania for his new chapter.
Raivis' casual day at JET MS is always about some kind of project. The aim is to prepare everything for that project and then oversee it from the administration perspective during the time it's being carried out. He is strict about having a good knowledge of mathematics and physics, as well as the need to understand what exactly you are doing: "If you start to plan without having a good knowledge about what actions you need to take, what is the best order to execute, what you need from supportive equipment and materials, then you will never be able to achieve success."
According to Raivis, working in a base maintenance for business is completely different from working in a base maintenance for regular airline companies. JET MS clients are businessmen and owners of the firms. Opposite from the airline companies as clients, who always know what they need, business customers usually have an idea in mind but are unsure how to achieve it. The team then needs to find out the best way to help meet customers' expectations, which requires more communication and creativity. JET MS' clients are very demanding and sometimes unpredictable, which creates a dynamic and very interesting working environment. If in a regular base organisation you have hangar slots for long period of time, JET MS's projects often come when least expected, so being more flexible and open-minded is essential, says Raivis.
Latvia and Lithuania is close to one another and have a lot of similarities, so being away from home doesn't seem like a huge issue for Raivis – only the language can become a little bit challenging sometimes. Lithuanian is the official language on a daily basis at work, so Raivis doesn't deny that he needs special attention in order to have a full understanding about relevant situations. "However, that's never been a problem as staff are very friendly and they always repeat anything I don't understand", says Raivis.
Raivis is happy being able to share knowledge and experiences with Lithuanian colleagues as well as helping each other stay positive.
After moving to Lithuania, Raivis tried finding Latvians living in the country and he did manage to get in touch with a few. Although spending time with people he feels socially connected with is joyful, he is very keen on going out with Lithuanian colleagues, meeting new people and getting to know the culture.
Raivis considers Lithuania a very beautiful country with nice people and interesting things to do. On his leisure time, he likes to explore different places in the old town of Vilnius and around. He tries to travel the country as often as possible to see other cities and participate in public events. He's consistently pursuing his hobbies, which include riding a bike, driving a motorbike and go karting.
An ability to adapt one's career to personality along with opportunities to live a fulfilling private life are what JET MS aims to provide to all of its employees.