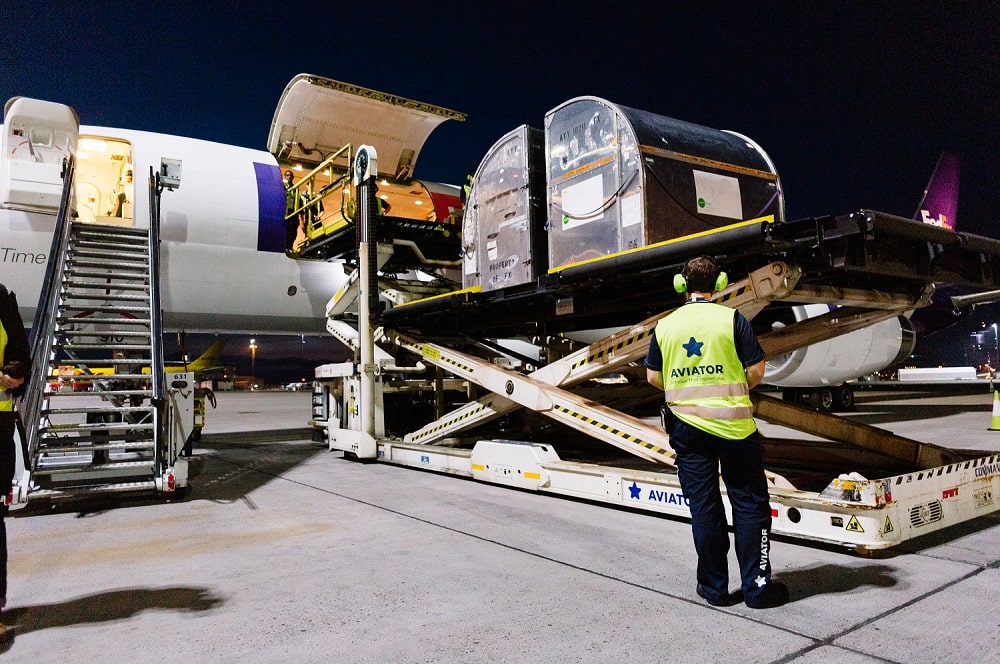 At a glance, commercial air transport might seem to be a streamlined phenomenon with the purpose of providing transport services from one point to another. Although this is essentially true, there is a bit more to it. Such transportation can be divided into two main categories, one of which gets passengers and their baggage to a big city or a sunny beach, while another carries their latest online orders from halfway across the globe. Roderick Engberg, Safety Officer at Aviator Airport Alliance, a full-range provider of aviation services at 15 airports across the Nordics and a family member of one of the largest aerospace service groups Avia Solutions Group, shares his insights on differences and similarities of passenger and cargo flights and their handling.
Helping passengers reach their destinations
When one arrives at an airport to start their weekend trip, they probably head straight to check-in or to drop off their bag. After going through security, they are likely to find themselves at a cafe or a bar with a snack and a beverage of their choice. Meanwhile, ground handlers are preparing the flight.
"There is a lot that has to be considered while preparing a passenger flight. Seating and load planning are done to calculate weight and balance. Fuel is ordered, arrangements for unattended minors, passengers with reduced mobility and other special needs passengers are made. At the same time, passengers' bags are passing through the sorting area, delivered to the stand, and are loaded into a compartment. The gate area is prepared for boarding. When all passengers and load are on board, a load sheet is created, and the Pilot in Command receives the final figures. Once the pushback is completed and engines start-up, passengers can sit back and relax as the aircraft is taxiing to the runway for the take-off. Before taking on our next mission we, the ground handling team, will send electronic messages to inform the flight destination what they need to know to take good care of passengers and their baggage upon arrival," shares Roderick Engberg.
Taking cargo to the sky
So, one might ask... is my latest online purchase going through a similar process on its way from the retailer to my home? "Well, for packages the process is not much different, except for the availability of tasty beverages," Aviator Safety Officer jokes. "After arriving at the airport, online orders are screened for security reasons and 'seated' among fellow packages before taking off to a destination. The differences are more apparent for us as Ground Handling Agents. While we generally provide full service to the passenger airlines, we are just a little cog in a big machine of the cargo airlines operations. The industry giants, such as DHL and FedEx, run their own operations including load planning, weight and balance calculation, cargo acceptance and handling, and post-departure messaging while leaving the ramp duties to us."
Nevertheless, according to Roderick Engberg, handling cargo flights generally requires more resources per flight, including the number of staff and ground service equipment. "The main cargo carriers that we are working with are operating Stockholm-Arlanda Airport 5-6 days a week with high peaks in the early mornings and late evenings. In a timeframe of 1-1,5 hours up to 50 tons of cargo are processed from cargo warehouse to aircraft (or vice versa), loaded in containers or on pallets. As a cog in a big machine of our cargo customers' operations, we need to be structured, collaborative, communicative, and work with a high level of efficiency."
So, what's next? "Once the departing cargo is prepared, the loaded and security checked ULDs (containers or pallets) are lined up at the warehouse to be picked up by our ULD Transporters in sequence according to the Load Plan. The ULD Transporter delivers the cargo unit to a ULD loader that elevates the container or pallet up to compartment floor level. While some aircraft have cargo systems on the lower deck, ULDs on the main deck are generally pushed into their final positions in the compartments by hand," Roderick explains.
"Safety must always be a priority in any type of ground handling," he emphasises. "With heavy machinery involved in the process and single units of cargo weighing up to 5 tons, this becomes crystal clear when handling cargo flights. On-time performance is always seen as a key index within aviation, which is even more evident in cargo handling as delays might affect the whole cargo network. Following safety protocols is essential for safe and smooth operations. Use of counterweights during loading as well as offloading is necessary to minimise risk for tail-tipping and demand the load sequencing to be performed with next to surgical precision. The cargo agents have their own safety protocols that must always be strictly followed. This requires our staff to always be adaptive and attentive. "
Aviator Safety Officer shares that, even though the ground handling provider is less involved in the process as a whole, it is still a vital link in the cargo supply chain. "Our cargo customers are always present on airside so the ability to communicate and collaborate across company borders is essential."
Passenger vs cargo flight handling
Roderick Engberg shares that while there are some differences in processes and the scale of involvement in passenger and cargo flight handling, the key importance is the same – ensuring the safety of flights and everyone and everything on board. "We tackle each flight with the same amount of professionalism and attention, regardless of its type. We love what we do and we always make sure to do our best to ensure that both passengers and cargo reach their destination without any issues."