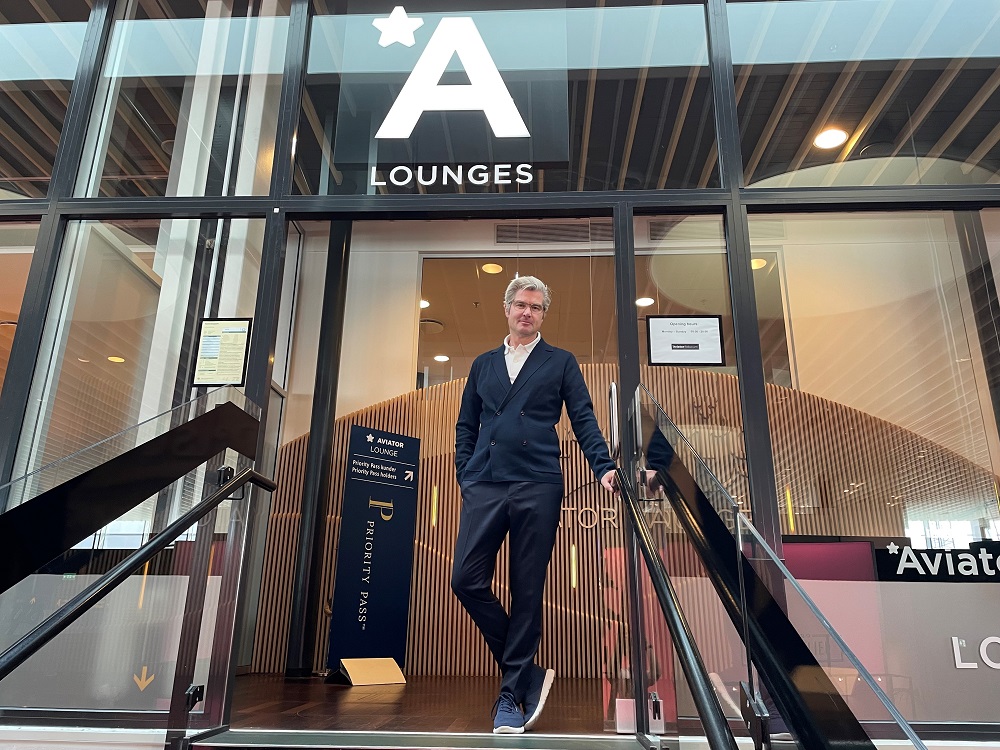 In the past, airport lounges were almost all-exclusive domain of business and frequent travellers. But lately, as mass flight delays in the US have showcased, lounges have seen a rising popularity among all types of travellers, regardless of their ticket class. With the growing return to travel, do Europe's lounges see a similar boom?
The airport and airline lounges have become a shelter for many of the travellers in the US last year who were unfortunate to get swept up in the chaos. Long queues at airports and major flight delays left them seeking to make the wait time as comfortable and productive – or entertaining – as possible. When it comes to Europe, Patrik Bayardo, Head of Airport Hospitality at Aviator Airport Alliance (Aviator), a full-range provider of aviation services at 15 airports across the Nordics, notes that such chaotic periods simply highlight the already ongoing shift in the European landscape.
"While many lounges have not yet returned to pre-pandemic levels per se, the lounge visitor mix has changed, as have the guest mix and their behaviour. In this sense, it can be said that attendance has increased – particularly for general-use lounges accessible as part of a credit card perk or by an unrestricted entrance free, as well as during leisure travel periods like last July or August. However, the sharp rise of mass affluence in the last year made it possible for more people to buy lounge-eligible tickets, points, or miles, lounge memberships or apply for credit cards with such perks."
Today, a passenger looking for an enjoyable and seamless travel experience with access to services like fast track and amenities like lounges is not restricted to only airlines serving that need, explains Bayardo – choosing the right credit card might be equally important.
The general societal and economic changes and trends shape what travellers need as well as look for in a lounge, this way defining lounge popularity over time, explains Bayardo. Lounge access is the primary perk for credit card – and lounge – adaptation and loyalty to these credit card providers. This, and that financial service companies like American Express, have more developed branded lounge networks to meet current demand, accounts for much of the boom seen in the US. The long view – the democratization of the lounge experience – would lead to more visitors and spaces in Europe, as it has in the US.
"Similar forces are in play, like the increased adaptation of services from players such as Priority Pass or the roll-out lifestyle-oriented American Express Platinum card services on more markets," observes Bayardo. "Sales from direct channels like walk-ins, will likely continue as lounges are seen by many as great value-for-money alternatives to an often-overpriced terminal offering. We also see an opportunity to increase the popularity of lounges by offering lounge experiences that cater these changes, and that – all together – better capture the wide range of airport passengers, who are looking beyond the luxury service."
The rising popularity of lounges seen in the US is partly the result of financial service providers trying to strengthen their ties with an expanding market of affluent consumers. They do this through credit cards, where travel and high-touch experiences like lounges are central to their lifestyles. Regardless of the market, the focus for airline loyalty programs will likely shift towards catering to high-paying ticket-class holders with proportional paired experiences and services like lounge access. To meet this competition, and make a post-pandemic profit, airlines might need to up their game on the travel experiences they exclusively control – such as re-configuration of cabins to fit more high-paying seats, for example – and pair it with proportional lounge services. Bayardo notes that if this plays out similarly to the US, the popularity of lounges will reach new levels in Europe as well.