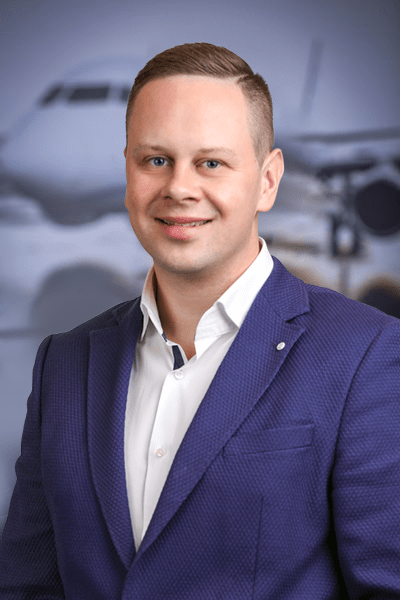 Avion Express is delighted to announce that Dainius Staniulis was appointed Vice President Commercial as of May 1st. Dainius previously served the company as a Commercial Manager.
For the last two years, Dainius was developing sales function in the company with a strong focus on strengthening clients' portfolio and meeting customer's needs. Having brought his expertise in sales working with multiple international businesses in the B2B sector, Dainius has proved himself to be a valuable addition to the company's management team. His vast experience of over 8 years in the international corporate banking sector contributed to the company's success in securing the leading position in the market.
Dainius' significant contributions to the development of Avion Express cannot be unnoticed as not only the sales processes were developed and the sales team increased, but also new strong clients were brought to the company.
"This promotion comes as a natural transition considering Dainius' professional accomplishments and expertise in the field. Over the time with the company, Dainius has proved himself as a hardworking, dedicated and goal-oriented professional, and worked his way up to take on the new position", – comments Darius Kajokas, Avion Express CEO.
"I am proud to take up this new position. International business was not new to me when I first came to Avion Express, yet working for an airline turned out to be in fact global undertaking, and thus very demanding, challenging, and dynamic. At the same time, this is exactly what makes this job interesting and drives me forward," – says Dainius Staniulis, newly appointed Vice President Commercial. For Dainius, this is like a two-way street as he believes that when the company trusts in its team members, enables them to learn while providing opportunities and expanding responsibilities, one can develop at a very rapid pace and contribute to the company's goals effectively.