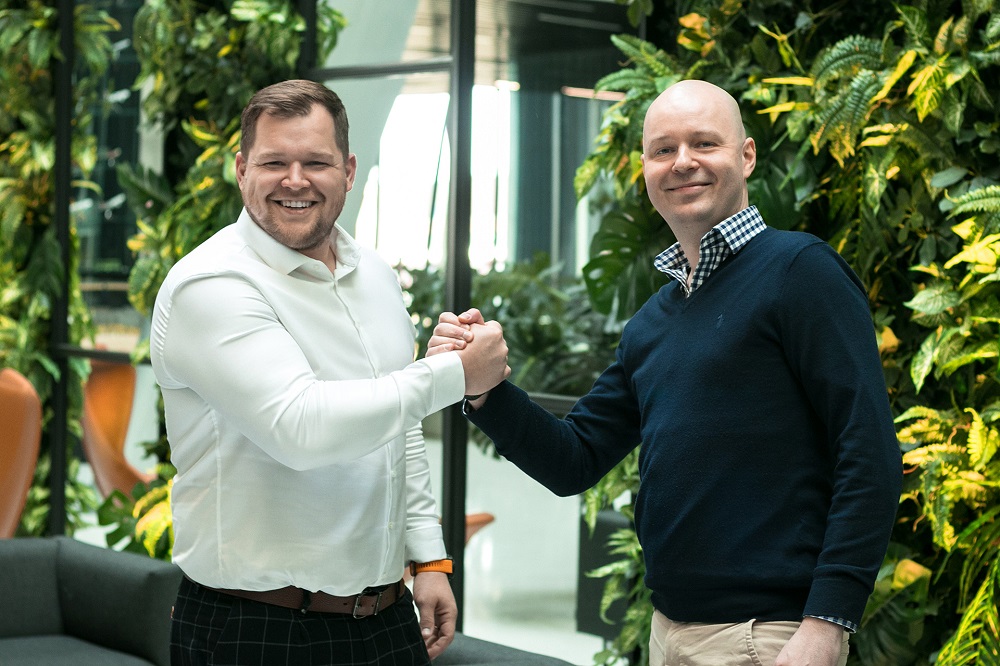 An up-and-coming EV marketplace and community platform EVmotors.eu has recently attracted 750 thousand euros in seed funding from AeroCity Tech Ventures, a corporate venture capital established by Digital Aero Technologies. With this investment EVmotors.eu is joining Digital Aero Technologies, holding that unites technology-driven companies, established by a global aviation services group Avia Solutions Group.
Simonas Ramanauskas, the co-founder and CEO of EVmotors.eu shares that as more and more businesses move online, with such well-known vehicle manufacturers like Tesla and Porsche setting up convenient e-commerce marketplaces, there's an apparent need for all-encompassing EV platform. "Surveys around the world show that more and more people plan to buy vehicles online with 69% of participants in the UK and 89% of participants in Spain willing to buy their next car online. EVmotors.eu will be a place for modern buyers, where one will be able to buy an EV from a variety of options without ever leaving their home."
Studies show that while online shopping buyers tend to have an easier time comparing options and pricing thus third-party online portals, such as EVmotors.eu, become a convenient way to find the best deal. "Around 60% of buyers look for price and offer comparison online, therefore having it all in one easy to use platform is an attractive feature to drivers looking for the best possible option," Simonas says.
Julius Norkunas, the CEO of Digital Aero Technologies, shares that the addition of EVmotors.eu is an exciting development. "We see incredible opportunities for a startup of such kind. According to Bloomberg, 4.3 million plug-in vehicles are expected to be sold in Europe by 2025, representing around 28% of all sales in that year. That, together with the rapidly growing interest in online vehicle purchasing, allows us to believe that EVmotors.eu has the potential to unite the EV community and offer them not only information, shared experiences, but also convenience and ease for all things EV. DAT is more than happy to welcome EVmotors.eu to our ranks."
This comes as the most recent investment for AeroCity Tech Ventures, as it has already invested in a number of promising startups. "Technology-focused companies that we have invested in have much potential for growth and development.
We believe that with our funding as well as comprehensive business support, companies have better chances of making their mark on the industry," Julius Norkunas shares and adds that AeroCity Tech Ventures has allocated 20 million euros to invest in businesses and ideas that have the potential to have a great positive impact on the aviation industry and beyond.
All-encompassing EV platform
Simonas Ramanauskas, the co-founder and CEO of EVmotors.eu, shares his excitement about the development. "This is an incredible opportunity for us to jump up our business and bring a much-needed product to the EV community."
According to Simonas, the startup EVmotors.eu will be comprised of two main platforms – EVmotors.eu, a marketplace where clients can purchase an electric vehicle without leaving their home, and EVmotors.live, a community platform where the latest news, tests will be shared and EV drivers and enthusiasts have an opportunity to connect and share experiences. "We want to create a place where people can find out anything and everything about electric vehicles as well as create valuable connections and share ideas. And we believe that EVmotors.eu can become that place."
The man behind the wheel of EVmotors.eu explains that the investment will greatly aid in the company's plans to become one of the most visited EV communities' platforms and the most attractive EV marketplace in Europe. "With the funds received from the investment, we plan to further develop the platforms and teams working on them, broaden our services portfolio and focus more on generating traffic and increasing the numbers of customers," Simonas shares and adds, "With the rapidly changing habits of sustainability-conscious buyers, we see much potential in online vehicle retailing and trust that EVmotors.eu can and will become a key player in the market."