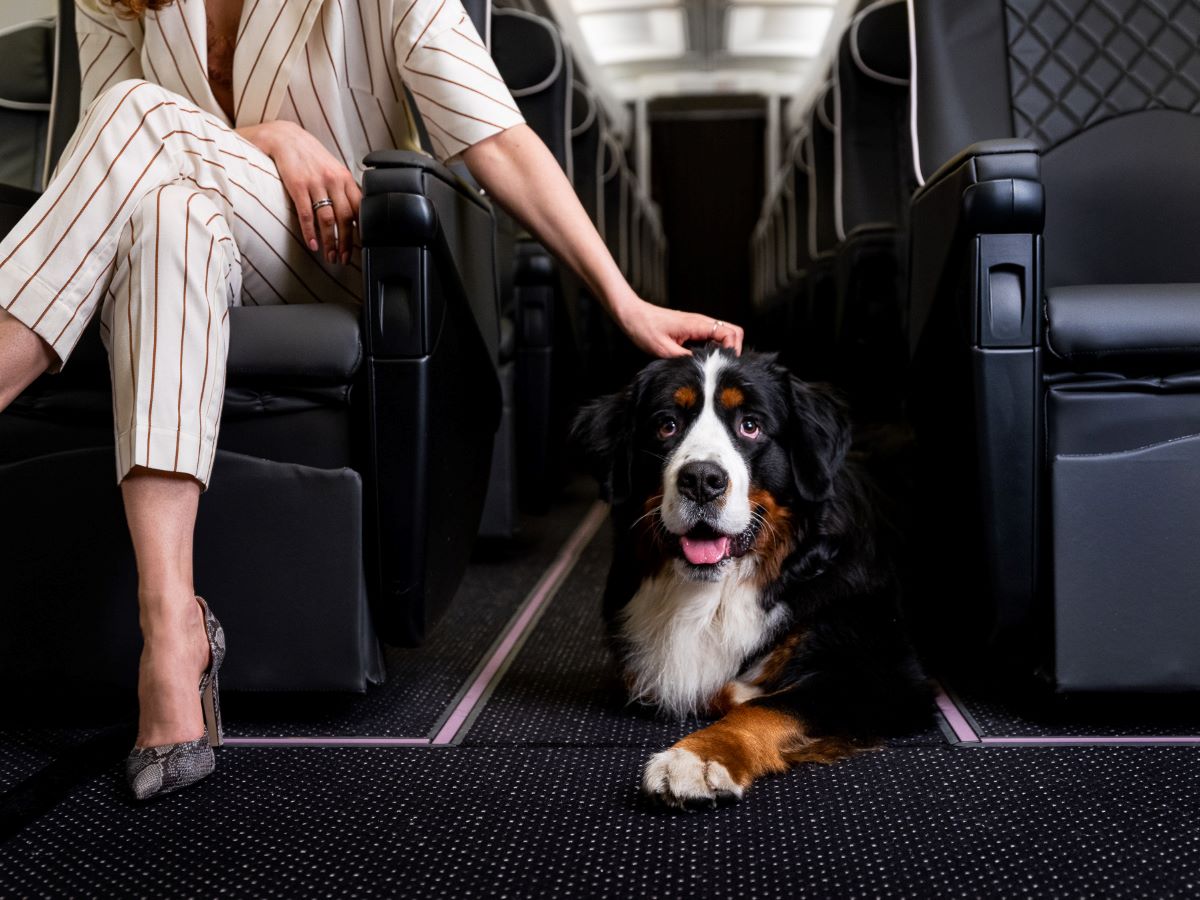 What do Joe Jonas, Lady Gaga, and Taylor Swift have in common? Aside from being international superstars, they all take their beloved pets onboard private jets.
Pets are often considered to be more than just animals, but cherished companions and family members. It's no surprise that many affluent individuals choose to travel with their furry friends. According to Lukas Petrauskas, the CCO of KlasJet, a well-known exclusive private and corporate jet charter company, and an ACMI service provider, around 12% of flights include at least one animal on board. From adorable puppies to majestic falcons, pets of all species are frequent flyers on private aircraft.
"Celebrities and affluent individuals are frequently pressed for time, making it difficult to be separated from their beloved pets for extended periods," he says. "Travelling with their animals can bring a sense of comfort and stability to their fast-paced lifestyles. In addition, travelling on a private jet is also more favourable to the animals themselves, as they are permitted to fly with their owners inside the aircraft, as opposed to being placed in cargo compartments as is often the case when travelling on commercial flights."
Petrauskas mentions that KlasJet has accommodated a diverse range of animals on their private jets. While small dogs are the most common pets they transport, they have also flown with some unique animals like falcons. "In the Middle Eastern market, it is quite common for falcons to travel on private jets, and we have had many opportunities to get familiar with the unique needs of these feathered passengers. Interestingly, falcons don't require much attention during flights and as long as their eyes are covered, they can remain uncaged and sit beside their owner throughout the journey."
Regarding more common pets, Petrauskas notes that there are no special requirements for passengers wishing to bring their animals aboard private jets. "The same documentation required for flying commercially, such as a pet passport, vaccination records, and other legal documents, must be provided in accordance with the regulations of the destination country. Unlike commercial airlines, private jet operators do not charge extra fees for pets, although some may require a cleaning fee."
While pets themselves are usually easy passengers to accommodate with access to quality snacks and water bowls, there are situations where flying with them on board KlasJet's private jets may require additional preparation. "For instance, some countries, such as the United Kingdom, Ireland, United Arab Emirates, and Iceland, require prior authorisation from the authorities for pets to fly in or out of the country."
As the private jet industry expands, it is predicted that an increasing number of pet owners will opt to travel with their furry companions. "While travelling with pets was once considered a rarity, now it no longer turns heads, and we anticipate that we will see even more animals enjoying the comfort of private jets alongside their owners in the future," says Lukas Petrauskas.