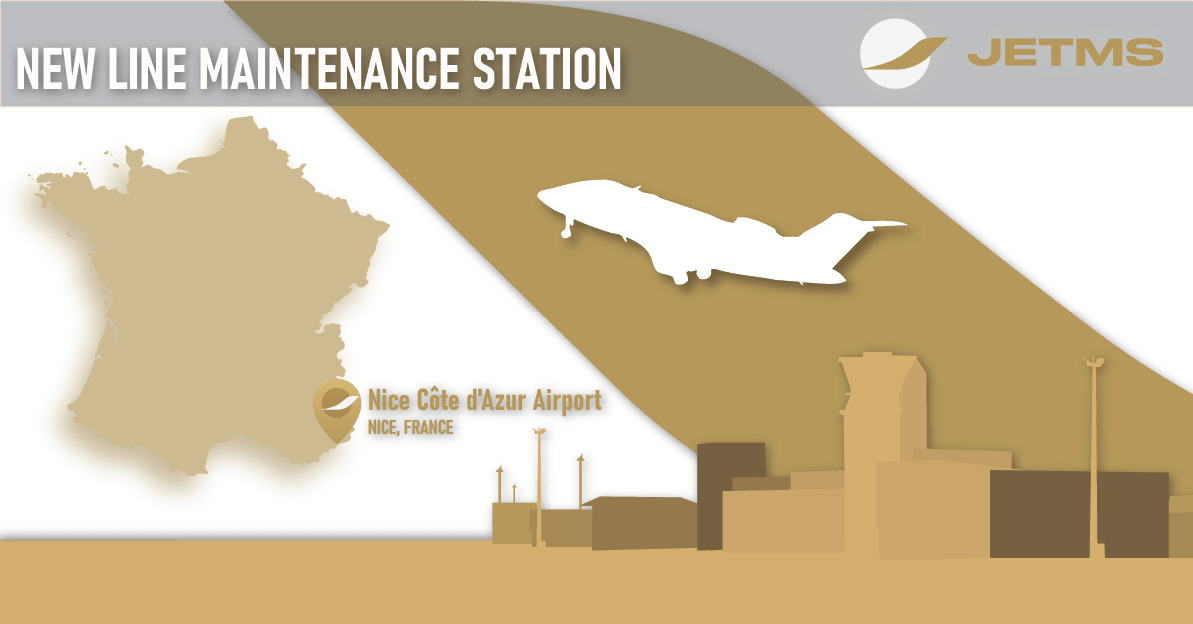 Jet Maintenance Solutions (JET MS), one-stop-shop for MRO solutions for business and regional aircraft is launching a new line maintenance station located at Nice Côte d'Azur Airport in France.
The addition of a new line maintenance station at the most active airport in 2019 and 2020 for business aviation aircraft will allow Jet Maintenance Solutions to widen its reach and offer its extensive service portfolio to a growing client base. With over 10 years of experience in the MRO industry, the company is taking a yet another step in its global expansion by entering and increasing its presence in more markets across the globe.
Having more than 2,050 recorded departures made by private aircraft in 2020, Nice has been the leading airport for private aircraft measured by take-offs in Europe for over 2 years. The company has already established a dedicated team for line maintenance operations consisting of top-notch engineers and specialists, including business development officials and sales managers, to support commercial procedures. Additionally, JET MS will offer Mobile Repair Team (MRT) services to surrounding airports, so the company will be able to serve its current and future clients not only at Nice, but also at Cannes, Marseille and Toulon airports.
"By opening our doors to new clients in this picturesque city of the French Riviera, we are entering a new and demand heavy market. Having had over 2,050 movements even during the pandemic in 2020, the airport shows a strong demand for sophisticated private aircraft infrastructure. With a combination of our know-how, globally acclaimed reputation and leading balance of cost-effectiveness and quality, we are sure to have a strong foothold in this market. By being a part of Avia Solutions Group which includes FL Technics, a global one-stop shop for MRO solutions boasting a portfolio of over 70 line stations across the globe, our shared know-how will allow us to reach our full potential when conducting line maintenance procedures at our station in Nice. With the successful beginning of operations at this location, we are already looking at more potential business aviation centres and FBO organisations where we could offer our services," – commented Jet Maintenance Solutions CEO Vytis Zalimas.
Jet Maintenance Solutions is firmly positioned to perform routine checks and provide AOG support to business and regional aircraft. This comes on the back of plans to expand operations and meet market demand, through the opening of new line maintenance stations that will be situated in the most lucrative locations for business aviation representatives. Currently, the company plans to open a new Line Maintenance station in London, UK, in early autumn.