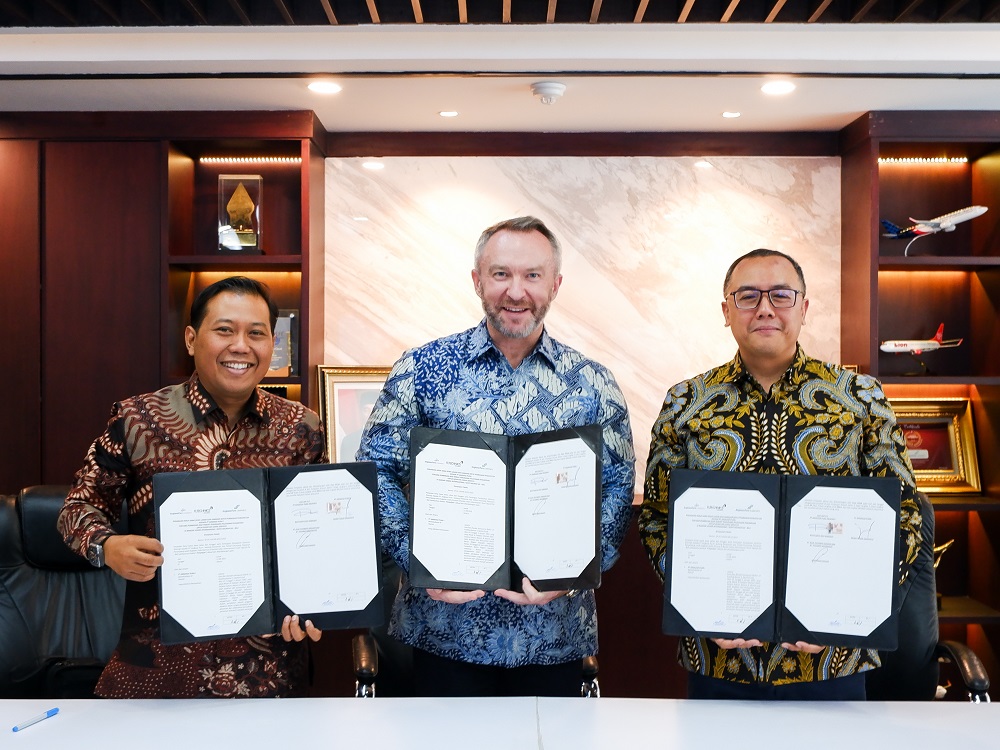 FL Technics Indonesia (PT Avia Technics Dirgantara), a subsidiary of FL Technics, a leading aircraft maintenance solutions group, and PT Angkasa Pura Properti, together with PT Angkasa Pura I (Persero), starts the development of 17,000 sq. m. aircraft MRO hub, the first at I Gusti Ngurah Rai International Airport (DPS) in Bali. FL Technics is set to invest US$25 million in the initial stage to undertake an MRO construction and development project set to be finished in a year.
The new infrastructure will have a hangar with 6 bays to maintain narrow-body aircraft, supported by purpose-built production shops and offices.
The milestone marks rapid and sustainable FL Technics development in strategic regions, driven by the global growth of travel demand, in this case, led by the aviation industry surplus from Australia and major markets in Asia and beyond.
Director of FL Technics Indonesia, Martynas Grigas, emphasises the significance of the new project from a business and regional perspective: "FL Technics is expanding across the globe, entering new continents, yet not losing the focus on key markets. We strengthen our positions by investing in infrastructure, business operations, people, and society itself. I am confident FL Technics' experience, resources, and expertise will grant the success of the project in Bali – our partners will benefit from a global independent MRO network, the industry will gain access to our solutions approved by FAA, EASA, and CASA, while the region will be provided with more than 500 new jobs, as well as new travel, cargo, and trading opportunities."
The significance of the new project for both the industry and the economy is clear, as it will be developed under joint operations agreement – KSO (Kerja Sama Operasi) – between three counterparts with long-term commitments to the region and Indonesia itself. The KSO agreement has been signed by the Director of FL Technics Indonesia, Martynas Grigas; President Director of PT Angkasa Pura Properti, Ristiyanto Eko Wibowo; and Commercial & Service Director of PT Angkasa Pura I (Persero), Dendi T. Danianto at PT Angkasa Pura I (Persero) Head Office, Kemayoran, Central Jakarta.
The I Gusti Ngurah Rai International Airport (DPS) is already a crucial aviation hub in the region, with enormous potential for growth as local and global investment continues. PT Angkasa Pura Properti team identified this potential and committed to representing the best interest of the region and the industries involved, to grant success of the new development.
"This is a form of our support for the national aviation industry, especially with PT Angkasa Pura I. With traffic at I Gusti Ngurah Rai Airport, which continues to increase after the pandemic, this MRO will help airlines increase efficiency and effectiveness in running their business. This is also facility one form of optimising the mainland that we continue to carry out," said the Director of PT Angkasa Pura Properti, Ristiyanto Eko, Wibowo.
Mutual effort, sealed by KSO agreement, confirms the strong commitment of the partners to grow the aviation industry as well as to contribute to the growth of the economy and well-being of the country and region itself. FL Technics Indonesia's support and partnership with PT Angkasa Pura Properti and PT Angkasa Pura I (Persero) show a solid synergy to sustain and develop the national aviation industry, maintain high safety and service standards, and build Indonesia's reputation as an attractive tourist and business destination.
This new facility will be a great addition to the existing global independent FL Technics' MRO network, which includes current base maintenance hangars in Lithuania (Vilnius and Kaunas International Airports), the United Kingdom (London, Stansted International Airport), Scotland (Prestwick International Airport), Indonesia (Jakarta International Airport), and newly planned facility in the Dominican Republic (Punta Cana International Airport).
This new strategic development is backed by Avia Solutions Group, the parent company of FL Technics, which is one of the world's largest ACMI (aircraft, crew, maintenance, and insurance) providers with more than 180 aircraft in its fleet, operating in all continents in the world. Outside the MRO and ACMI solutions, the group also provides various aviation services such as pilot and crew training, ground handling and other interconnected services.