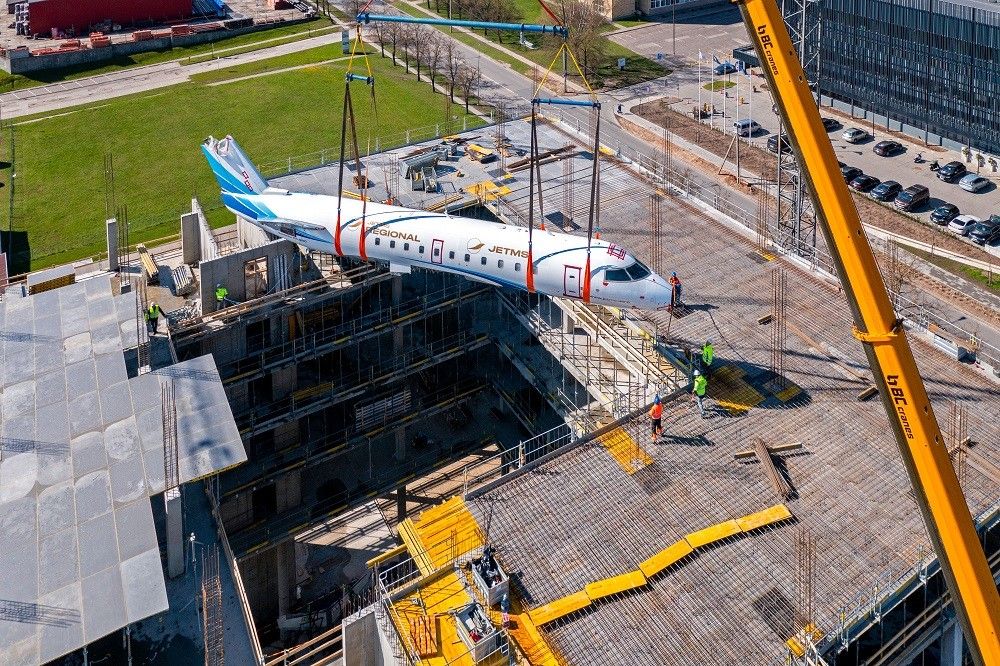 Sometimes a unique idea is born, and this is one of those cases. With its latest architectural project – office building with a real jet inside - Avia Solutions Group, a leading aerospace services group, has proven that no idea is too big for this aviation giant.
Over the years, Avia Solutions Group has made many incredible ideas come true, but this one might just take the cake. Out of close to 100 locations where the group has offices or production sites, they chose Vilnius, Lithuania, to create AeroCity - a modern cluster of aviation companies, bringing together aviation professionals, enthusiasts and public. Located nearby Vilnius International Airport, the aviation business and entertainment area opens the doors to the incredible airspace industry. Currently AeroCity consists of group's representative office, BAA Training pilot training school, a hotel for pilots and guests, and will soon-to-be finished unique project.
The group has planned and is in the midst of building a one-of-a-kind architectural piece – an office building with an actual aircraft in the middle of it. The building is being constructed in Vilnius, Lithuania, across the street from the modern Avia Solutions Group's Representative Office, and will open its doors at the end of the year.
"This building is a grand and unique project. The eight floor construction is cube-shaped, with a large atrium in the centre of the building," comment Jonas Janukenas, CEO of Avia Solutions Group. "Offices are designed around the perimeter of the atrium, making the first floor a 'square under a roof'. It will be a spacious, light, 8-meter tall area with glass walls and minimal structures. But the most unique feature of this architectural project is a Bombardier CRJ 200 business jet that has already 'landed' on the first floor of the building."
J. Janukenas emphasises that the project is not meant to be just an office building, but is set to become a popular place of attraction for both residents and guests of Vilnius. "While it is true that this construction will become a NewTech's Valley of Innovation and Technology where our companies will develop innovative ideas for aviation industry, it will be open for visitors. We have planned convenient public spaces, commercial premises and even an Italian restaurant to ensure that members of our group as well as our guests can enjoy their time. Our visitors will also have a unique opportunity to enter an actual luxury private jet!"
J. Janukenas excitedly summarised the project: "Aviation is a truly fascinating industry but not everyone can experience it up-close. This first of its kind project allows us to bring one of the most interesting industries to people's everyday lives. It is an incredible idea, and we are delighted that in such a short time we were able to make it a reality."
Video can be found here: https://www.youtube.com/watch?v=mIvLTO4FR00