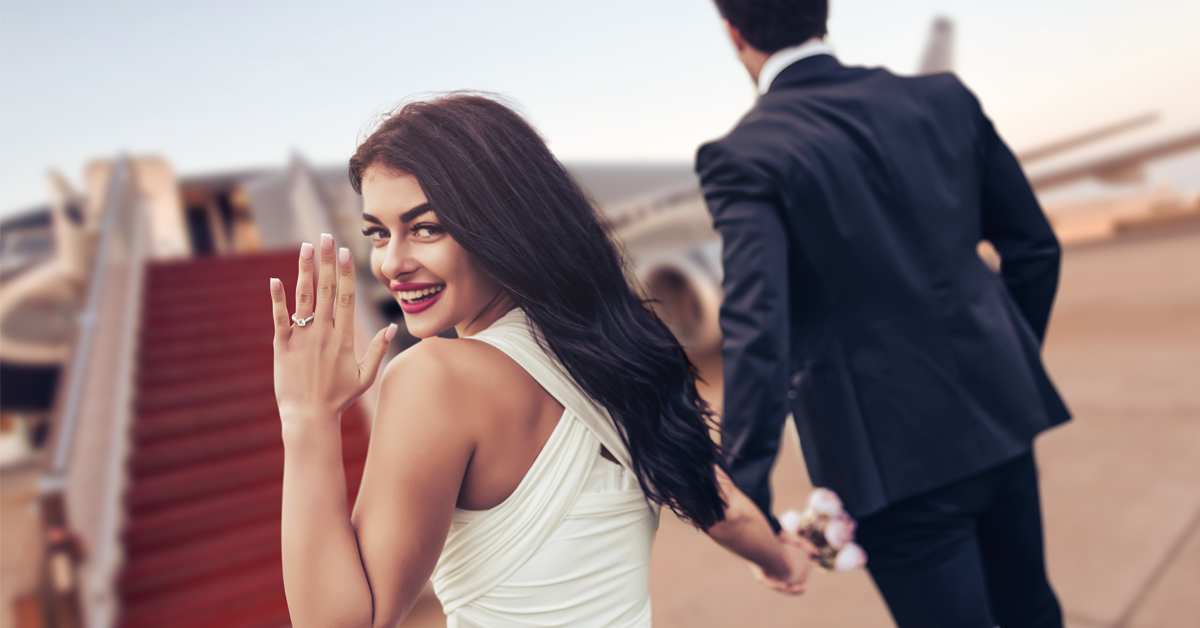 Long gone are the days when weddings were just simple family affairs. Now more and more couples are seeking extraordinary experiences to celebrate their love. One trend that has taken the wedding industry by storm is the use of private jets for wedding transportation. According to Lukas Petrauskas, the CCO of KlasJet, a well-known exclusive private and corporate jet charter company, and an ACMI service provider, the demand for private jets for weddings has increased by over 10% compared to last year, with Adriatic and Mediterranean coastlines remaining the most popular destinations.
Flying private instead of spending countless hours on transportation
According to Lukas, choosing to fly privately for a wedding provides couples with numerous benefits. "One of the main reasons is the ability to access even the most remote airports, allowing couples to reach their dream destinations. Private jet travel also offers the flexibility to set their own schedules, ensuring that couples can plan their wedding events and ceremonies without being restricted by commercial flight schedules."
In addition to the convenience of reaching remote locations, private jets also offer a perfect solution for transporting not only the couple but also their loved ones to the wedding destination. "More and more couples are opting to fly with their entire entourage, allowing their closest relatives and friends to be a part of their special day. This growing trend has resulted in an increase in bookings for large groups, often requiring multiple jets to accommodate the wedding party flying from a single or even multiple different airports."
Furthermore, private jet travel provides a stress-free alternative to commercial flights. Dedicated private terminals and expedited security processes minimise the hassle of crowded airports, long queues, and lengthy waiting times between connections.
Opting for a unique and luxurious experience
Private jet weddings offer an array of benefits that go beyond convenience. "The true appeal lies in the ability to personalise every aspect of the journey, turning the flight into an event that reflects the couple's unique style and vision. With private jet travel, couples can create an unforgettable experience that extends far beyond the wedding venue."
One of the key advantages of private jet use for weddings is the ability to customise the aircraft interior to match the wedding theme. "This level of personalisation allows couples to curate a welcoming and enjoyable atmosphere for themselves and their guests. From elegant floral arrangements to gorgeous decorations, every detail can be tailored to create a truly memorable time."
In addition to interior customisation, private jet weddings offer the opportunity for tailored catering and entertainment on board. "Just imagine having a DJ setting the stage for an airborne party. How fun would that be? Couples can even surprise their guests with live entertainment, making the travel experience itself an unforgettable part of the wedding celebration."
What's next for the private jet weddings trend?
Lukas believes that private jet weddings will redefine the standard of luxury in wedding celebrations. "As more couples aspire to create exclusive and unforgettable experiences, the demand for private jet charters is predicted to soar. In the coming years, we can anticipate a rise in extravagant weddings that take flight, as couples explore innovative ways to elevate their love to new heights."
With this growing trend, Lukas offers a valuable piece of advice: the earlier couples decide to book private jet transportation, the better experience they can expect. By securing their arrangements in advance, couples can ensure a seamless and tailored journey that fulfils their desires and exceeds their expectations.
And what if the future MR and MRS decide to tie the knot on the KlasJet aircraft itself? "I don't see any reasons why not — we can make it happen," says Lukas.