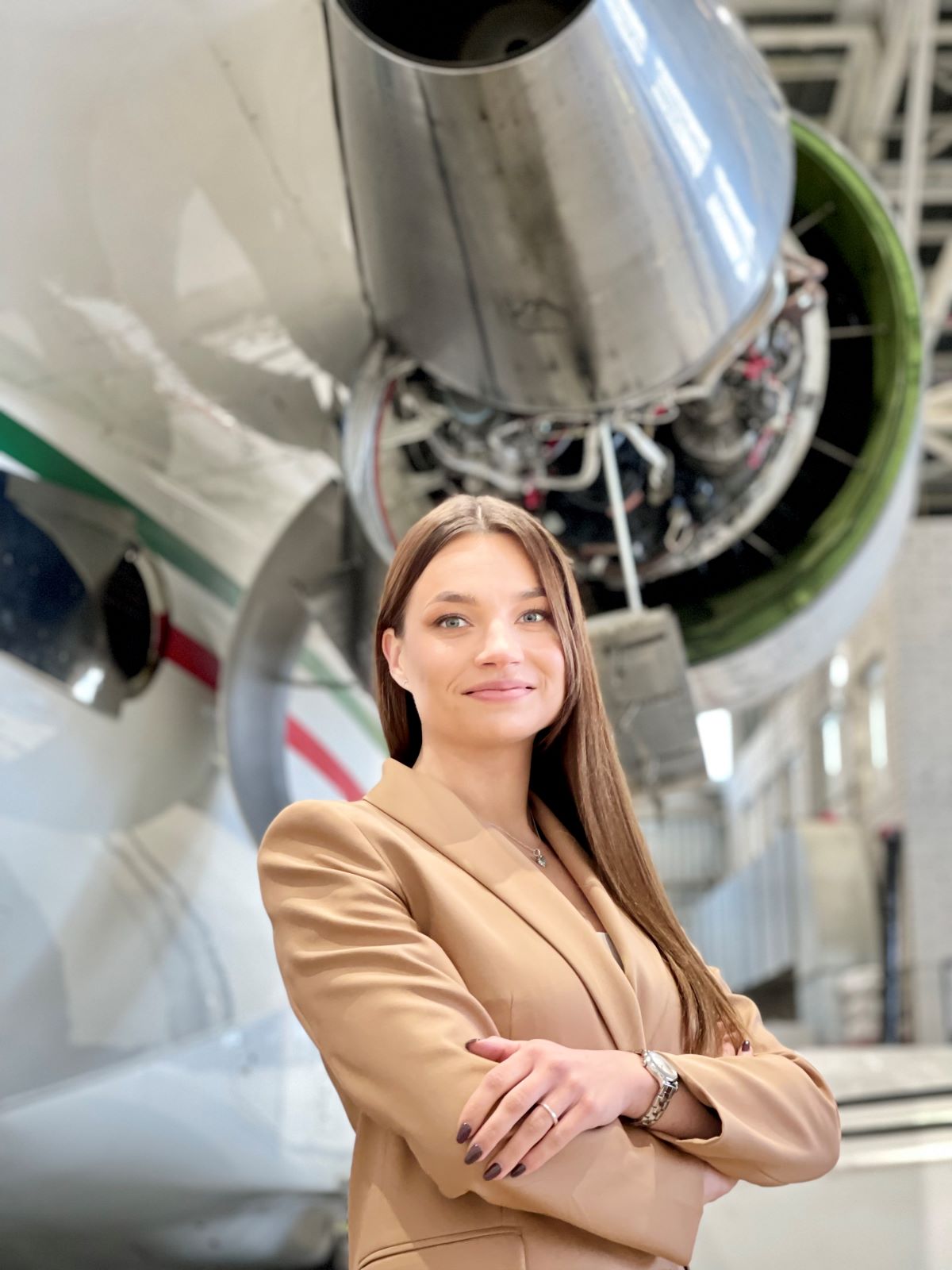 Starting work in a new company can be a little bit daunting. For Sabina Lukaševič, a Sales Support Manager (SSM) with JETMS, after only 6 months she already feels like she's been a part of the business for a lot longer.
Working in the aviation industry came unexpectedly for Sabina, but according to her she finds the industry a very flexible and interesting place to work, and one which makes her very happy to be a part of.
As a Sales Support Manager, her role entails sourcing the best options for requested spare parts for the client, along with initiating the sale process while providing fast and high-quality service.
According to Sabina, to become a professional Sales Support Manager, "Education is important, but passion for achieving targets and providing high-quality service is far more valuable in this position." Regarding her role as a Sales Support Manager (SSM) with JETMS, she says, "I think a Sales Support Manager should understand that they are creating the JETMS image around the world, making it necessary to keep high service standards to ensure the company's image on the global stage."
To give some added insight into the job of an SSM, Sabina outlines what a normal day at work is comprised of. "I start my day early in the morning by checking emails. Then, a cup of coffee and a short chat with my colleagues in the office). Afterwards, we have a stand-up meeting with the team where we share our results and experiences, good or bad, from the previous day. Right after the meeting, we start working on our set tasks and process received requests. I like the idea that we are usually trying to brainstorm ideas on how to solve problems, or where to find a particular unit which is proving difficult to source."
For Sabina, planning her tasks and priorities allows her to organise her day in a fast-paced industry where plans can change at a moment's notice. To adapt to these changes, Sabina realises that the most important thing is to understand the client's needs, having received all the necessary information from both the sales manager and the customer.
At JETMS teamwork is vital, and according to Sabina, teamwork is the power that keeps the team moving forward to achieve greater results. She sees communication between team members as being essential when dealing with difficult cases. Plus, keeping good lines of communication open between the team is the route to getting better results and reaching the goals that have been set.
Collaboration, locally and internationally, is a big part of working in JETMS. For Sabina, working with people around the world and interacting with different cultures is one of the most interesting parts of the job. In her own words, Sabina says, "As the aviation market recovers there are many events and exhibitions to attend, meeting both clients and partners. I also like that I can cooperate with other departments, and brainstorm different ideas. When I started working here, it was really positive for me to realise that my colleagues in JETMS are always so open and willing to help in any way they can.
According to Sabina, there are also challenging moments attached to her job, and one of the most challenging is to carry a lot of information in your head and be able to retrieve it quickly for a client or vendor. Despite that challenge this entails, Sabina says, "It might be difficult but there is no better feeling than when you receive positive feedback from your client. Plus, it's amazing to know that you can increase a customer's satisfaction through your daily work."As far as challenges go, 2020 and 2021 have been two of the most difficult ever for the aviation industry, for newcomers to the industry, like Sabina, it was a baptism of fire.
"I started my career in aviation at a very challenging time – after the second phase of Covid. For approximately 1.5 years we only got to meet our clients online and in a virtual environment. The truth is that it's very difficult to keep good relationships with clients and vendors when you communicate only via phone or online." Because of this new way of conducting business, the SSM had to adapt. "For me, my personal challenge was to earn the trust of the clients/vendors and to begin building good lines of communication. In aviation, good relationships and maintaining the correct are the main keys to unlocking success."
Some of the projects which Sabina has been tasked to work on since the beginning of her career with JETMS have often proven demanding, but these demands also come with benefits. "Although I have only recently started my role as an SSM, I have already been introduced to complicated, difficult, and high-value projects. But, these are the kinds of projects that help you grow professionally and dive deeper into the aviation industry.
As for what the future holds, none of us can be certain, but at JETMS we've already proven that we're more than ready to react and overcome whatever the world throws our way.. For Sabina, her views on what 2022 might hold are pretty clear. "I think that JETMS is growing now and operating in a very positive way. All of my colleagues have the same goals and work unbelievably hard to achieve them. We aim to keep our clients and vendors satisfied at all times, and that we are available for them anytime we're needed."