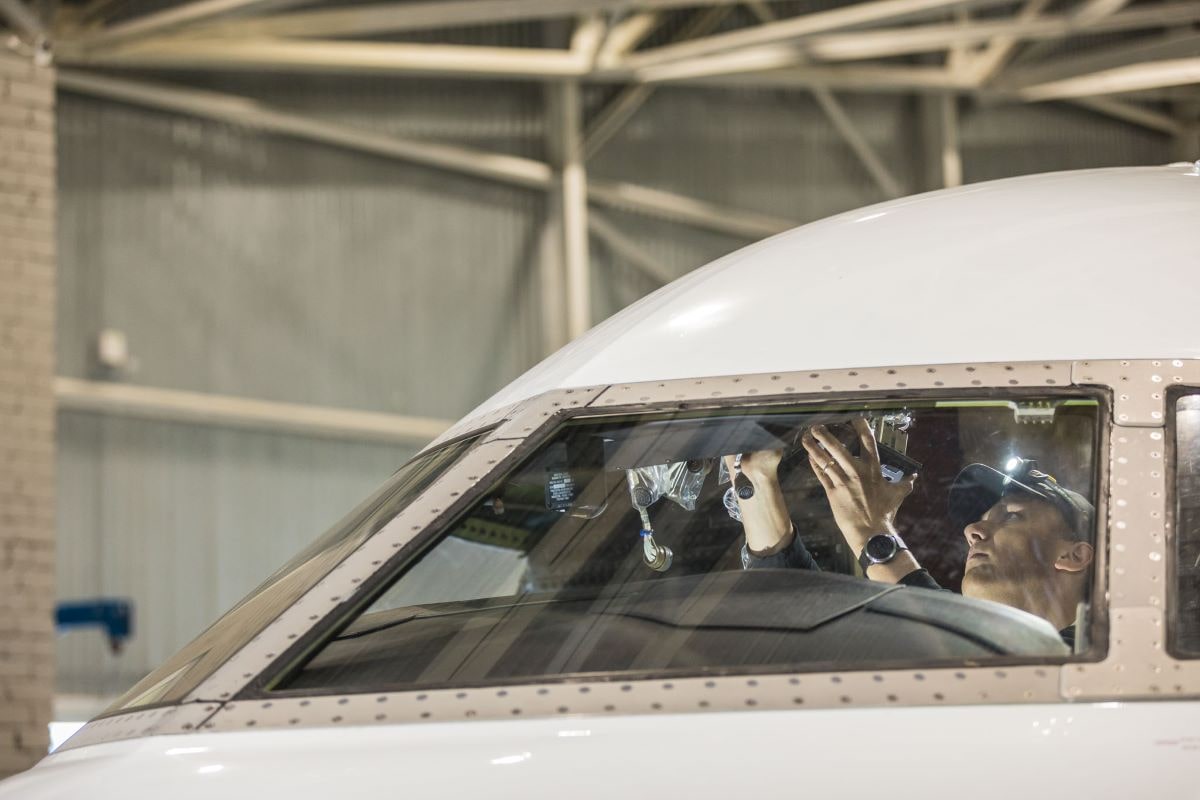 Now more than ever, safety is on everyone's minds. JET MS – a family member of the Avia Solutions Group, the largest aviation, and aerospace company in Central and Eastern Europe – highlights the crucial importance of staying up to date with MRO safety news and trends.
Like in many other aviation-related industries, safety in MRO is a number one priority. Only technically sound aircraft can be safe to operate, so following the latest safety updates is a must to any MRO company, JET MS included. "It is very important for us to follow the most current business aviation regulations issued by corresponding authorities and to be up to date with the latest trends and products available on the market," explained Barbora Vidaillac, Product Projects Manager at JET MS. "Our primary objective is to make sure we use the best in class tools, materials and products and to make our customers aware of the options they have to improve their aircraft performance and safety."
Why to implement non-mandatory safety upgrades?
Even though many product and safety updates and upgrades are non-mandatory, JET MS always strives to stay up to date with industry standards. Such non-mandatory upgrades can include IRU/AHRS upgrades - extremely accurate, reliable, durable and long-lasting systems that provide aircraft operators (pilots) with completely on-aircraft autonomous navigation; SmartLanding – systems that allow operators to feel extremely safe to land at complex approach airfields; LPV - Localizer Performance with Vertical Guidance with WAAS, Wide Area Augmentation System, that allow for incredibly precise navigation; and many more. "There are many reasons why it is a good idea to proceed with upgrades sooner rather than later," explains Barbora. "First, some technologies become standard at some point and they are later set as mandatory. Second, it is important for our customers regarding the financial impact and aircraft value management. Continuous upgrades of their equipment can be done with reduced downtime and it is cheaper due to OEM incentives and smaller adjustments required, while last moment upgrades can be much more expensive and technically demanding. Additionally, modern safety upgrades add value to an aircraft in financial terms. We often deal with owners who come to JET MS with a request to bring their aircraft up to date before it is listed for sale. The investment in safety is something that potential buyers value a lot."
The possible consequences of not being aware of product and systems upgrades can be detrimental. Clients can risk losing aircraft's airworthiness, ability to fly at defined flight levels or land at particular airports because of missing required equipment and software updates. Maintenance cost increase is also amongst the possible risks.
Looking after clients' safety needs
As an experienced business MRO industry player, JET MS always advises clients on the best solutions for their aircraft safety. "At JET MS, we aim to help all of our customers to optimise their maintenance plan and make them aware of the equipment which will be either no longer supported by the respective OEM or inform about an upgrade available which will make the aircraft compliant with all the current and future requirements, increasing the aircraft's value. Covid-19 obviously had an impact on operators' upgrade planning but overall our customers are aware of the importance of this topic and they make their best effort to stay up to date," said Barbora Vidaillac.
As an example of a safety upgrade performed by JET MS that has already proven its benefit to the industry, Barbora singles out Future Air Navigation System's upgrade: "While most of the business jets have been excluded from the 2020 EASA mandate, CPDLC / FANS 1/A+ is a good example of the upgrade we highly recommend and which many customers consider to soon implement on their fleets."
As the industry's requirements for aircraft safety become more and more strict as the time goes on, staying up to date with products and upgrades becomes a priority. "We have a dedicated team of people who are responsible for all product lines and who are constantly learning about news in the business aviation industry so we can provide proper support and help our clients to prioritise their next steps. Safety first, of course, however we look at each aircraft individually in detail to find the best solution and technologies to meet our customers' needs," concludes JET MS' Product Projects Manager.