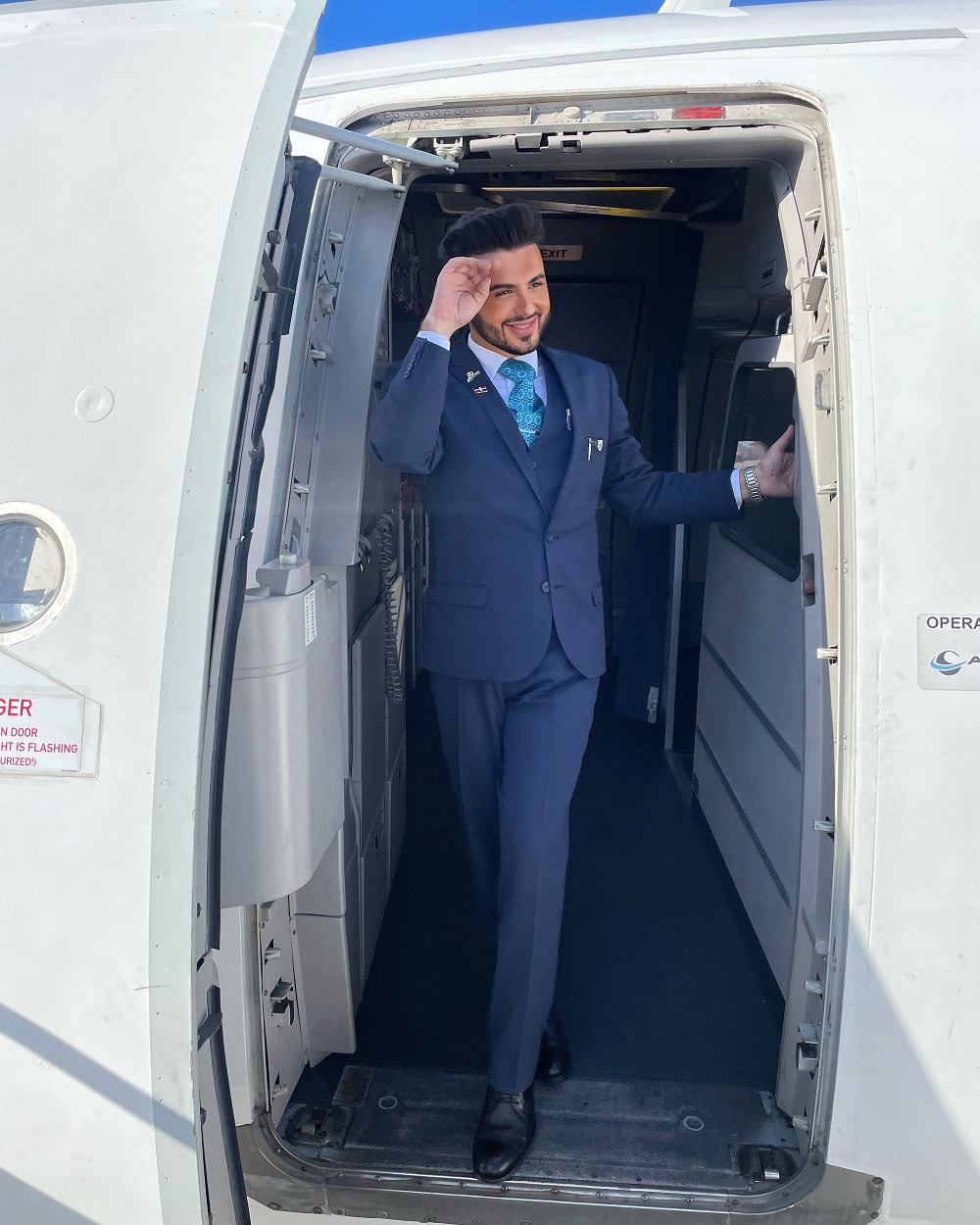 Adventure, gorgeous locations, and active lifestyle – this is what being a cabin crew entails. And while it isn't for everyone, people who choose this career all can attest - it's the best. Cristian Chirita, the Senior Cabin Crew at Avion Express, a narrow-body ACMI operator and member of global aviation services group Avia Solutions Group, has been flying as cabin crew for over 6 years. While Avion Express flies and has bases all over the world, from Asia, to Europe, to South America, Cristian Chirita has the pleasure of being at one of the most desirable bases among cabin crew - Santo Domingo base. So, what does he like the most about aviation and the Caribbean?
Avion Express has a base in Santo Domingo, Dominican Republic. Tell us, is this a desirable base for Cabin Crew and why?
The Dominican Republic is the most visited travel destination in the Caribbean! Every year, a million travellers from around the world arrive on the tropical island. We, as cabin crew, feel lucky to have the chance to work in such a wonderful place, since it permits us to travel around the island during our days off. Santo Domingo is an intensely urban city that offers some escape to resort living, but, in addition to that, it is a place for a great night out that includes the hottest clubs and restaurants.
To which destinations do you fly from SDQ? Which flight is most interesting/popular and why?
From Santo Domingo, we fly to Cuba, the US, Nicaragua, among other beautiful places, and more will be added soon!
The most interesting destination for us is Miami. Apart from being a desirable place to visit, we feel lucky to have Miami as a work base! We love it since there's never enough time to explore such a unique city! We love to soak up the rays at South Beach, sip cocktails in the Art Deco District, explore Little Havana, and dance the night away on the Ocean Drive!
How long are the flights usually?
Every destination is different. For example, we operate charter flights to Lima, Perú, and Santiago de Chile. These are the longest flights from Santo Domingo taking over 4 and 7 hours respectively!
Can you share some interesting stories from flights?
Every flight is unique for us in the Caribbean region. As a multicultural team, we are delighted to work with local people, get to know their culture and what they like. Punta Cana is one of the most fun destinations in the Caribbean, and our customers' spirits are always exceptional! They love to dance in the aircraft and share music with other customers!
Cabin Crew seems to have the time of their lives when they come to Santo Domingo: sunbathing, enjoying cocktails near the pool and joyfully chilling. Is it true?
Santo Domingo base is an extraordinary opportunity to work and explore the city itself! The airline offers each Cabin Crew the opportunity to be based in the Caribbean for two months. There is not a single day where you will feel bored! There is always something to do, somewhere to visit, somebody new to meet!
What are the challenges Cabin Crew, based in San Domingo, sometimes face?
I would say the nature in the Caribbean region can sometimes create challenges and affect us while on duty, cause flight cancellations or delays.
The climate in the Caribbean is full of surprises and extremes. The wet season generally coincides with the Atlantic hurricane season, officially running from June 1st till November 30th of each year. The long rainy season lasts from May to October and the dry season from December to March! So, there's a lot of possibilities for unfavourable weather conditions.
Where Cabin Crew usually stays when they come to Santo Domingo?
We live in a great hotel in Santo Domingo. Everything is provided by the Airline. We absolutely love it there.
Is there any base that the majority of the Cabin Crew wants to be at?
We have our hearts split between Santo Domingo and Miami! Avion Express crew planning does their best to rotate, so we can enjoy both fabulous places!